Fly-tipping is a serious criminal offence for which you can be prosecuted. The courts have various powers available to them to tackle fly-tipping, including imprisonment, substantial fines of up to £50,000 orders to pay costs and an order to deprive rights to a vehicle used to commit the offence.
Sounds pretty serious to me, and having seen so many examples of on my daily commute I can sympathise with those whose lives are affected by it.  It's an insidious crime, done in the dark, when no-one is around to witness it.  The people who do it are the lowest forms of life, they can be grouped along with child molesters and self-serving politicians.   As some might say "hanging's too good for them!"
Yet so many people seem to be getting away with it – the statistics from Defra are astonishing:
For the 2017/18 year, local authorities in England dealt with just under 1 million (998,000) fly-tipping incidents, a slight decrease of 1% from the 1,011,000 reported in 2016/17.
Two thirds (66%) of fly-tips involved household waste. Total incidents involving household waste decreased by 4% from 2016/17.
As in the last few years, the most common size category for fly-tipping incidents in 2017/18 was equivalent to a 'small van load' (33% of total incidents), followed by the equivalent of a 'car boot or less' (28%).
In 2017/18 34,000 or 4% of total incidents were of 'tipper lorry load' size or larger, which is similar to 2016/17. For these large fly-tipping incidents, the cost of clearance to local authorities in England in 2017/18 was £12.2 million, compared with £9.9 million in 2016/17. This increase was driven by an increase in the number of incidents in the largest size category of 'significant/multi loads'.
Local authorities carried out 494,000 enforcement actions in 2017/18, an increase of 18,000 actions (4%) from 2016/17.
The number of fixed penalty notices issued has continued to increase, up 20% to 69,000 from 2016/17 and up 91% on 2015/16. This is the second most common enforcement action (after investigations), and accounted for 14% of all enforcement actions in 2017/18.
So over half of the reported incidences of fly tipping, that's 528,000, were done by people like you or me and white van men.  Basically, people who were too lazy to go to the council tip!  You lazy bastards, it's actually free to dispose of most household refuse at the tip!
Enforcement cost councils £16.9 million in 2016-17. This was on top of the £57.7m spent cleaning up fly-tipped rubbish.  Add to that the money reportedly spent by members of the Country Landowners Association, on cleaning up rubbish dumped on their land, said to between £100m and £150m a year, and you have a serious, and expensive problem.  Unsurprisingly they've come up with a 5 point plan to improve things:
Impose and enforce penalties which better reflect the seriousness of the crime
Enforce fines for home and business owners whose waste is found in fly-tipped locations
Appoint a national 'Fly-Tipping Tsar'
Develop new ways to clear up and support victims
Promote education and working in partnership
A noble attempt but frankly I'd still recommend hanging!
The Guardian posted a series of readers' photos of "surreal" fly tipping in London…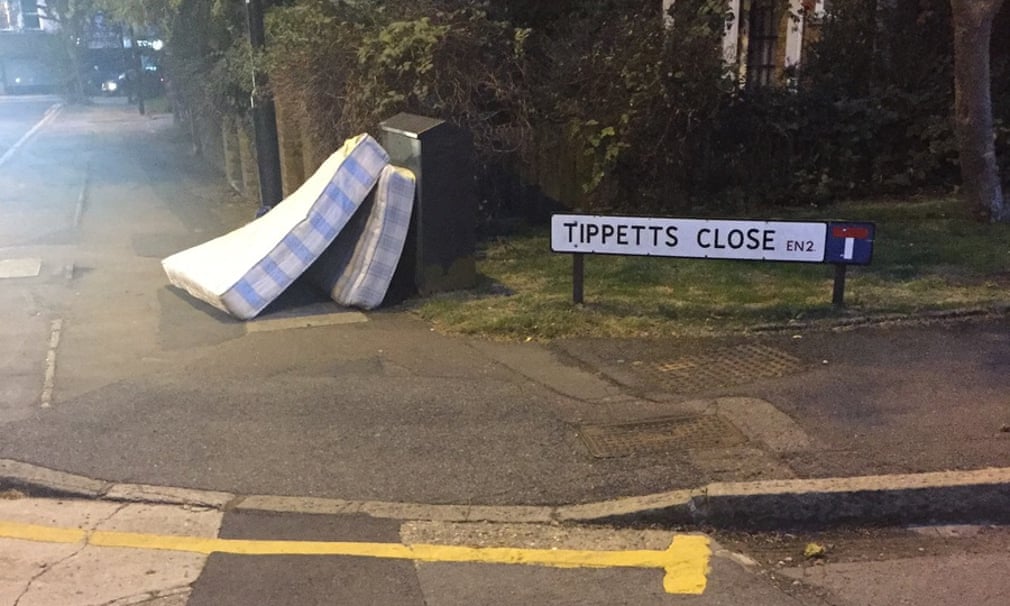 And it isn't just a British phenomenon, in New Zealand a graffiti-strewn and derelict bungalow appeared on an area that had recently been cleared for a new retail centre in Takanini, to the south of Auckland!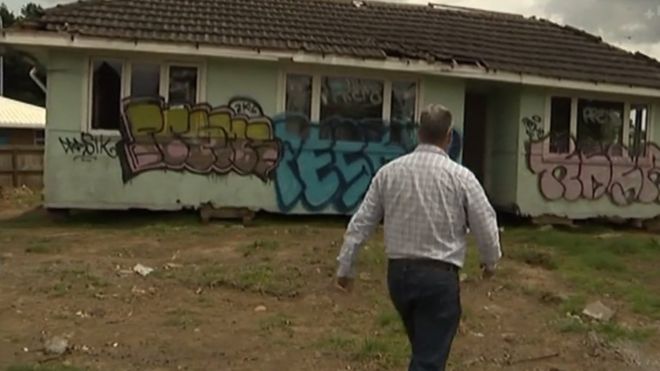 Closer to home, in Italy, according to Wikipedia, the Triangle of death in Campania, is Europe's "largest illegal waste dump". The area, which encompasses Italian municipalities Acerra, Marigliano, and Nola, experiences illegal waste disposal practices by the Camorra such as unauthorized burying of toxic waste under places frequented by humans.  Frequent fires at dumping sites and illegal waste fires have resulted in contamination of the air and drinking water.  And this raises a second issue driving this practice – fly-tipping has become a source of income for criminal gangs – here in the UK, as well in Italy.
So, what can be done about it?  Well for starters I hope that all the offenders in the videos that can be found on this BBC website were punished, if nothing else for the lame excuses they came up with!
Well one thing I'd recommend is to undertake some DNA analysis of the waste itself, swab the sofa, or the ties of bin bags, or the handles of the drawers and doors, I'd bet a few DNA profiles that could be checked with the National DNA Database would be found, and then maybe a few less criminals could be locked up, or hung, whatever!
Equally analysis of the contents of bin bags can lead to identifying whose waste it is – just think of the amount of junk mail (that you just bin) that either has your address or even better your name and address on it…you're with me, I can feel it 🙂
However the greatest improvement can be made by standardising recycling and waste management – across the nation. Just telling people in one area what they can and can't recycle, via some dull piece of local authority marketing, isn't going to hack it.  It needs concerted centralised action – I mean Jeez, the bins are different colours in different areas – for those of you who want to know what you can recycle, and where check this link out!!  The rest of you, I suggest you start writing to your MP, start lobbying them and get the major waste companies involved too.
And stop trying to charge small businesses for taking their waste to council tips – encourage them to come to you – in the long ride it'll save money!  Just make it as simple as possible and then the system will work better, and we'll all benefit.  It's either that of bring back the death penalty…