I'm not sure if it's because there's tech all around us and we've had years and years of "plug and play" but I'd really like to understand the frustration I experience shortly after I get some new tech.  I mean why does so much tech take so much effort to get it working properly?  Well from research undertaken, whilst I was having my lunch, it appears that there are a range of factors/aggregation of said factors that can make human blood boil…
Why doesn't everybody use the same damn standard?
Why is it sooooo difficult to set these things up in the first place?
Why does the damn device keep losing its connection?
Are things getting too complicated?
Am I stupid?
For starters why is this so important?  Well…According to the report, "2018 Global Smart Home Market Forecast", worldwide consumer spending on smart home devices, systems and services will total nearly $96 billion in 2018 and grow at 10% CAGR over the forecast period (2018 to 2023) to $155 billion. Adoption of smart speakers from Amazon and Google is boosting the market. – yikes!!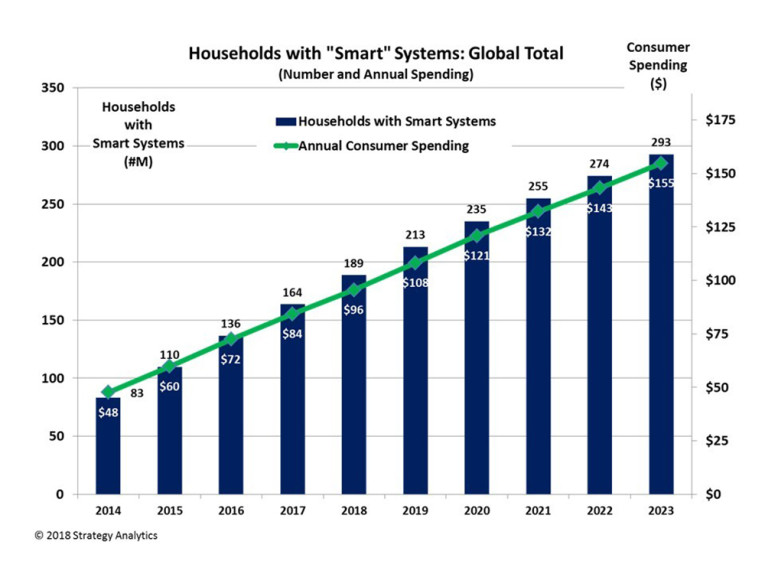 Now whether this is driven by the desire for us humans to have an easy life and achieving this by automating many of the hugely labour intensive chores at home (like playing music of turning on/off lights – Hey Alexa/Siri/Cortana/OK Google et al) or if it's some quasi-ethical, anti-fossil fuel, tree-hugging instinct to monitor your energy use that is emerging (possibly only really amongst "millenials") it appears to be a fact – the smart home market is growing apace!!
But what proportion of the population considers themselves to be "techies"?  I dunno -but back in 2013 IDG helpfully offered the following "10 Signs You're Probably a Techie" – check your selves out – be my guest.  I consider myself to be one, I'm an early adopter who loves the latest "shiny-shiny"; gadgets and "cool-tools" – but I still find it a challenge to integrate my latest fave piece of tech!
Standards:
When I worked in the hi-fi world (hold on to your horses but we're talking in the last millenium – yikes I'm old!!) there was a term that was used – "super-compatability".  This meant that your devices not only connected up, but they played together – beautifully.  Sonic perfection with the minimum of fuss (although a not insignificant level of expenditure was required to achieve this aural nirvana). However, today we have a plethora of disparate operating standards across multiple operating systems and each designed to maximise the profitability of each brand's "eco-system"!   Apple, Google, Microsoft, Samsung, Xiaomi, ZigBee, Philips, the list just grows and grows. Allegedly you can get some of these to talk to each other – you note I say allegedly!!
In fact it is far more complex than just that.  The Internet of Things organisation in the UK has helpfully provided a wealth of information for those of you who are the true connected home nerds:
Powered by Digital Catapult and Future Cities Catapult, IoTUK was a programme of activities that sought to advance the UK's global leadership in the Internet of Things (IoT) and increase the adoption of high quality IoT technologies and services throughout businesses and the public sector.

IoTUK was a national programme designed to accelerate the UK's Internet of Things (IoT) capability, launched as part of the Government's £32m investment in IoT.
Just check out their "IoT Standards and Protocols" – an overview of protocols involved in Internet of Things devices and applications. Help clarify with IoT layer technology stack and head-to-head comparisons. Yep, that's what I thought too!  No wonder it's difficult.
Difficult to set up
Remember Plug n Play?
Plug and Play (PnP) is a capability developed by Microsoft for its Windows 95 and later operating systems that gives users the ability to plug a device into a computer and have the computer recognize that the device is there. The user doesn't have to tell the computer.
Yeah right, that sounds cool.  Sounds perfect for the non-coder early adopter such as myself!!  And maybe, just maybe, you can connect your new device to your home wifi network without too much problem – although if like me you've wasted money on TP-link smart plugs you'll know that's not a given – just check out those reviews – ouch!  Even if you're fortunate to achieve that there's no guarantee that, just for the hell of it, the device won't suddenly decide it can't be arsed to work and whatever you try it will just sullenly refuse to re-connect.  Shocking waste of money team – don't do it.
Even Amazon – the accepted leader in the home automation world – still doesn't make it easy on you.  Have you read my earlier post on the subject – or this one – they don't like being criticised, do they?    I've got plenty of Echo devices, fire Sticks etc etc but if I wanted them to control the turning on and off of my TV/satellite box I need something else – a Harmony Hub. so I've got one but it was so damn difficult to get it to stay connected I switched it off.  Plus you had to say stuff like "Alexa, tell Harmony to turn on the TV"!
Here are the instructions for setting up your Harmony Hub…
#update!!!  I have just discovered that as of November 10th (no idea which year!)…
 On Friday November 10th, Logitech Harmony introduced a deeper and more natural integration with your Amazon Alexa voice experience. Play, pause, stop, fast forward, adjust the volume and tune to channel numbers, all without having to say, "ask Harmony to". Update to the "Harmony" Alexa skill to make use of these new features.
Well I'll just have to try switching it back on and see 🙂 apparently all you have to say now is….
"Alexa, turn on sports" to power on your TV, set your stereo to surround sound, lower your window shades and even set your table lamps to your team colors.
Stable connections
I've already highlighted the propensity of the TP-Link "smart" plug to lose the plot but that's not all – my broadband router, as supplied GigaClear offers the poorest of home wifi capability, although it does offer guidance on how to improve things via its website.
Powerline ethernet:  I tried that and as soon as I switched it on the router just dropped ALL internet connectivity – thanks for that one!
Direct ethernet connection: Er, isn't wifi supposed to be much easier, and no messy cables around the house…
Wireless access points.  They actually suggested I purchased and intalled a slave router.  I did. Trouble was every time we had a power cut (I live in a rural area…with no good BT broadband…hence using fibre from GigaClear…) the slave router was quicker faster and betteer than the GigaClear one so..all the wifi devices connected ti ti – but of course it was a slave so it didn't have it's own internet connection – doh!
They said avoid wifi extenders – I haven't and thank god I didn't although I still get the odd drop out
Their final option was using a different router – see 3!
So it's clear that much of the issues are a mix of crap tech (the product) or crap service (broadband/electricity).  If you thought that broadband over fibre was stable – think again.  Here's how Virgin Media and BT have been doing over the past 24 hours (live data so it will change) – so there's still a way to go to provide the kind of stability that is required to cope with the flaky technology that we're being sold!!
Too complex
At the beginning of this year (2018) Nilay Patel wrote a piece on the Verge called "Everything is too complicated" and in it he said:
Think of the tech industry as being built on an ever-increasing number of assumptions: that you know what a computer is, that saying "enter your Wi-Fi password" means something to you, that you understand what an app is, that you have the desire to manage your Bluetooth device list, that you'll figure out what USB-C dongles you need, and on and on.
And you know what?  He isn't the only one!
I could go on…and on, and on, and on!

Too stupid?
Am I really the reverse of Marvin the Paranoid android?  Do I have a brain the size of a pea?  I think NOT!
"Here I am, brain the size of a planet, and they tell me to take you up to the bridge. Call that job satisfaction? 'Cos I don't."
Don't get me wrong-  I'm no genius – but I've got an above average IQ (c.140 – whatever that means!) and I can grasp quite complex concepts like "Cognitive Dissonance", "Bounded Rationality" and "Black Holes" and answer equally difficult questions such as "Why am I here?", "Who is Linda Clayton?" and "What is The Infinite Improbability Drive" so I'm not a total idiot – I just have problems getting my tech to talk to each other and the outside world!
The answers are, btw, a. Because I damn well am, b. a figment of someone's imagination and c. an example of Douglas Adams' genius.